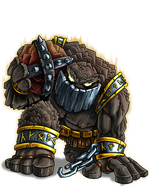 Grendel is one of the Heroes in the game.
In-game description
GRENDEL! SMASH! WALLS! SMASH! (Translation: it will damage everything in its way, especially walls).
Since you have rescued him, Grendel will now help you. Devastate enemy's with rocks he's throwing! Grendel is a Ranged hero, and he comes equipped with Grendel Smash Special Attack.
Currently, Grendel can only be acquired by winning him in the Wrath of Grendel Quest.
Here is a video from Corbell from March, 2015 -- Wrath of Grendel.
In the winter time, Grendel turns into a frozen smashing machine!
Contstants
Edit
| Walking Speed | Shooting Range |
| --- | --- |
| 80 | 6 |
Level Up Potential
Edit
| Level | Health | Armor | Damage | Attack Speed | Roar |
| --- | --- | --- | --- | --- | --- |
| 1 Initial | 328 | 250,7% | 103 | 0,61 | 10,20 |
| 200 Max | 3072 | 310% | 452 | 0,95 | 30,00 |
Statistics
Edit
| Level | Experience | Health | Armor | Damage | Attack Speed | Roar |
| --- | --- | --- | --- | --- | --- | --- |
| 1 | 39 | 328 | 250,7% | 103 | 0,61 | 10,20 |
| 2 | 39 | 336 | 251,4% | 107 | 0,61 | 10,40 |
| 3 | 39 | 344 | 252,1% | 110 | 0,61 | 10,60 |
| 4 | 40 | 352 | 252,8% | 114 | 0,61 | 10,79 |
| 5 | 40 | 360 | 253,5% | 117 | 0,61 | 10,99 |
| 6 | 40 | 368 | 254,1% | 121 | 0,62 | 11,18 |
| 7 | 40 | 376 | 254,8% | 124 | 0,62 | 11,38 |
| 8 | 40 | 384 | 255,5% | 127 | 0,62 | 11,57 |
| 9 | 41 | 392 | 256,1% | 131 | 0,62 | 11,76 |
| 10 | 41 | 400 | 256,8% | 134 | 0,62 | 11,95 |
| 11 | 41 | 408 | 257,5% | 137 | 0,62 | 12,14 |
| 12 | 41 | 417 | 258,1% | 141 | 0,62 | 12,33 |
| 13 | 42 | 425 | 258,8% | 144 | 0,62 | 12,52 |
| 14 | 42 | 434 | 259,4% | 147 | 0,62 | 12,7 |
| 15 | 42 | 442 | 260,1% | 151 | 0,62 | 12,89 |
| 16 | 43 | 451 | 260,7% | 154 | 0,62 | 13,07 |
| 17 | 43 | 459 | 261,3% | 157 | 0,62 | 13,26 |
| 18 | 44 | 468 | 262,0% | 160 | 0,62 | 13,44 |
| 19 | 44 | 477 | 262,6% | 163 | 0,63 | 13,62 |
| 20 | 45 | 485 | 263,2% | 167 | 0,63 | 13,80 |
| 21 | 45 | 94 | 263,8% | 170 | 0,63 | 13,98 |
| 22 | 46 | 503 | 264,4% | 173 | 0,63 | 14,16 |
| 23 | 46 | 512 | 265,1% | 176 | 0,63 | 14,34 |
| 24 | 47 | 521 | 265,7% | 179 | 0,63 | 14,51 |
| 25 | 48 | 530 | 266,3% | 182 | 0,63 | 14,69 |
| 26 | 49 | 539 | 266,9% | 185 | 0,63 | 14,86 |
| 27 | 49 | 549 | 267,5% | 188 | 0,63 | 15,04 |
| 28 | 50 | 558 | 268,0% | 191 | 0,63 | 15,21 |
| 29 | 51 | 567 | 268,6% | 194 | 0,63 | 15,38 |
| 30 | 52 | 577 | 269,2% | 197 | 0,63 | 15,55 |
| 31 | 53 | 586 | 269,8% | 200 | 0,63 | 15,72 |
| 32 | 54 | 596 | 270,4% | 203 | 0,63 | 15,89 |
| 33 | 56 | 605 | 270,9% | 206 | 0,63 | 16,06 |
| 34 | 57 | 615 | 217,5% | 209 | 0,63 | 16,22 |
| 35 | 58 | 625 | 272,1% | 212 | 0,63 | 16,39 |
| 36 | 59 | 634 | 272,6% | 215 | 0,63 | 16,55 |
| 37 | 61 | 644 | 273,2% | 218 | 0,64 | 16,72 |
| 38 | 62 | 654 | 273,7% | 220 | 0,64 | 16,88 |
| 39 | 64 | 664 | 274,3% | 223 | 0,64 | 17,04 |
| 40 | 66 | 674 | 274,8% | 226 | 0,64 | 17,2 |
| 41 | 67 | 684 | 275,3% | 229 | 0,64 | 17,36 |
| 42 | 69 | 694 | 275,9% | 232 | 0,64 | 17,52 |
| 43 | 71 | 705 | 276,4% | 234 | 0,64 | 17,68 |
| 44 | 73 | 715 | 276,9% | 237 | 0,64 | 17,83 |
| 45 | 75 | 725 | 277,5% | 240 | 0,64 | 17,99 |
| 46 | 77 | 736 | 278,0% | 243 | 0,64 | 18,14 |
| 47 | 79 | 746 | 278,5% | 245 | 0,65 | 18,30 |
| 48 | 82 | 757 | 279,0% | 248 | 0,65 | 18,45 |
| 49 | 84 | 767 | 279,5% | 251 | 0,65 | 18,60 |
| 50 | 87 | 778 | 280,0% | 253 | 0,65 | 18,75 |
| 51 | 89 | 789 | 280,5% | 256 | 0,65 | 18,90 |
| 52 | 92 | 799 | 281,0% | 258 | 0,65 | 19,05 |
| 53 | 95 | 810 | 281,5% | 261 | 0,65 | 19,20 |
| 54 | 97 | 821 | 282,0% | 264 | 0,65 | 19,34 |
| 55 | 100 | 832 | 282,5% | 266 | 0,65 | 19,49 |
| 56 | 103 | 843 | 282,9% | 269 | 0,65 | 19,63 |
| 57 | 107 | 854 | 283,4% | 271 | 0,65 | 19,78 |
| 58 | 110 | 865 | 283,9% | 274 | 0,65 | 19,92 |
| 59 | 113 | 876 | 284,3% | 276 | 0,65 | 20,06 |
| 60 | 117 | 888 | 284,8% | 279 | 0,65 | 20,20 |
| 61 | 120 | 899 | 285,3% | 281 | 0,66 | 20,34 |
| 62 | 124 | 910 | 285,7% | 284 | 0,66 | 20,48 |
| 63 | 128 | 922 | 286,2% | 286 | 0,66 | 20,62 |
| 64 | 132 | 933 | 286,6% | 288 | 0,66 | 20,75 |
| 65 | 136 | 945 | 287,1% | 291 | 0,66 | 20,89 |
| 66 | 140 | 957 | 287,5% | 293 | 0,66 | 21,02 |
| 67 | 145 | 968 | 287,9% | 295 | 0,66 | 21,16 |
| 68 | 149 | 980 | 288,4% | 298 | 0,66 | 21,29 |
| 69 | 154 | 992 | 288,8% | 300 | 0,67 | 21,42 |
| 70 | 158 | 1004 | 289,2% | 302 | 0,67 | 21,55 |
| 71 | 163 | 1016 | 289,6% | 305 | 0,67 | 21,68 |
| 72 | 168 | 1028 | 290,0% | 307 | 0,67 | 21,81 |
| 73 | 173 | 1040 | 290,5% | 309 | 0,67 | 21,94 |
| 74 | 178 | 1052 | 290,9% | 311 | 0,67 | 22,06 |
| 75 | 184 | 1064 | 291,3% | 314 | 0,67 | 22,19 |
| 76 | 189 | 1076 | 291,7% | 316 | 0,67 | 22,31 |
| 77 | 195 | 1089 | 292,1% | 318 | 0,68 | 22,44 |
| 78 | 201 | 1101 | 292,4% | 320 | 0,68 | 22,56 |
| 79 | 206 | 1113 | 292,8% | 322 | 0,68 | 22,68 |
| 80 | 212 | 1126 | 293,2% | 324 | 0,68 | 22,80 |
| 81 | 219 | 1138 | 293,6% | 326 | 0,68 | 22,92 |
| 82 | 225 | 1151 | 294,0% | 328 | 0,68 | 23,04 |
| 83 | 232 | 1164 | 294,3% | 331 | 0,68 | 23,16 |
| 84 | 238 | 1176 | 294,7% | 333 | 0,68 | 23,27 |
| 85 | 245 | 1189 | 295,1% | 335 | 0,68 | 23,39 |
| 86 | 252 | 1202 | 295,4% | 337 | 0,68 | 23,50 |
| 87 | 259 | 1215 | 295,8% | 339 | 0,68 | 23,62 |
| 88 | 266 | 1228 | 296,1% | 341 | 0,68 | 23,73 |
| 89 | 274 | 1241 | 296,5% | 343 | 0,69 | 23,84 |
| 90 | 282 | 1254 | 296,8% | 345 | 0,69 | 23,95 |
| 91 | 289 | 1267 | 297,1% | 346 | 0,69 | 24,06 |
| 92 | 297 | 1281 | 297,5% | 348 | 0,69 | 24,17 |
| 93 | 305 | 1294 | 297,8% | 350 | 0,69 | 24,28 |
| 94 | 314 | 1307 | 298,1% | 352 | 0,69 | 24,38 |
| 95 | 322 | 1321 | 298,5% | 354 | 0,69 | 24,49 |
| 96 | 331 | 1334 | 298,8% | 356 | 0,70 | 24,59 |
| 97 | 340 | 1348 | 299,1% | 358 | 0,70 | 24,70 |
| 98 | 349 | 1361 | 299,4% | 359 | 0,70 | 24,80 |
| 99 | 358 | 1375 | 299,7% | 361 | 0,70 | 24,90 |
| 100 | 367 | 1389 | 300,0% | 363 | 0,70 | 25,00 |
| 101 | 377 | 1402 | 300,3% | 365 | 0,70 | 25,10 |
| 102 | 386 | 1416 | 300,6% | 366 | 0,70 | 25,20 |
| 103 | 396 | 1430 | 300,9% | 368 | 0,71 | 25,30 |
| 104 | 406 | 1444 | 301,2% | 370 | 0,71 | 25,39 |
| 105 | 417 | 1458 | 301,5% | 372 | 0,71 | 25,49 |
| 106 | 427 | 1472 | 301,7% | 373 | 0,71 | 25,58 |
| 107 | 438 | 1786 | 302,0% | 375 | 0,71 | 25,68 |
| 108 | 449 | 1501 | 302,3% | 377 | 0,71 | 25,77 |
| 109 | 460 | 1515 | 302,5% | 378 | 0,71 | 25,86 |
| 110 | 471 | 1529 | 302,8% | 380 | 0,72 | 25,95 |
| 111 | 482 | 1544 | 303,1% | 381 | 0,72 | 26,04 |
| 112 | 494 | 1558 | 303,3% | 383 | 0,72 | 26,13 |
| 113 | 506 | 1573 | 303,6% | 384 | 0,72 | 26,22 |
| 114 | 518 | 1587 | 303,8% | 386 | 0,72 | 26,30 |
| 115 | 530 | 1602 | 304,1% | 387 | 0,72 | 26,39 |
| 116 | 543 | 1617 | 304,3% | 389 | 0,73 | 26,47 |
| 117 | 555 | 1631 | 304,5% | 390 | 0,73 | 26,56 |
| 118 | 568 | 1646 | 304,8% | 392 | 0,73 | 26,64 |
| 119 | 582 | 1661 | 305,0% | 393 | 0,74 | 26,72 |
| 120 | 595 | 1676 | 305,2% | 395 | 0,74 | 26,80 |
| 121 | 608 | 1691 | 305,4% | 396 | 0,74 | 26,88 |
| 122 | 622 | 1706 | 305,6% | 398 | 0,74 | 26,96 |
| 123 | 636 | 1721 | 305,9% | 399 | 0,74 | 27,04 |
| 124 | 650 | 1737 | 306,1% | 400 | 0,74 | 27,11 |
| 125 | 665 | 1752 | 306,3% | 402 | 0,75 | 27,19 |
| 126 | 680 | 1767 | 306,5% | 403 | 0,75 | 27,26 |
| 127 | 695 | 1782 | 306,7% | 404 | 0,75 | 27,34 |
| 128 | 710 | 1798 | 306,8% | 405 | 0,75 | 27,41 |
| 129 | 725 | 1813 | 307,0% | 407 | 0,75 | 27,48 |
| 130 | 741 | 1829 | 307,2% | 408 | 0,75 | 27,55 |
| 131 | 757 | 1845 | 307,4% | 409 | 0,76 | 27,62 |
| 132 | 773 | 1860 | 307,6% | 410 | 0,76 | 27,69 |
| 133 | 789 | 1876 | 307,7% | 412 | 0,76 | 27,76 |
| 134 | 806 | 1892 | 307,9% | 413 | 0,76 | 27,82 |
| 135 | 822 | 1908 | 308,1% | 414 | 0,76 | 27,89 |
| 136 | 840 | 1924 | 308,2% | 415 | 0,76 | 27,95 |
| 137 | 857 | 1940 | 308,4% | 416 | 0,77 | 28,02 |
| 138 | 874 | 1956 | 308,5% | 417 | 0,77 | 28,08 |
| 139 | 892 | 1972 | 308,7% | 418 | 0,77 | 28,14 |
| 140 | 910 | 1988 | 308,8% | 419 | 0,78 | 28,20 |
| 141 | 929 | 2004 | 308,9% | 421 | 0,78 | 28,26 |
| 142 | 947 | 2021 | 309,1% | 422 | 0,78 | 28,32 |
| 143 | 966 | 2037 | 309,2% | 423 | 0,78 | 28,38 |
| 144 | 985 | 2053 | 309,3% | 424 | 0,78 | 28,43 |
| 145 | 1005 | 2070 | 309,5% | 425 | 0,78 | 28,49 |
| 146 | 1024 | 2087 | 309,6% | 426 | 0,79 | 28,54 |
| 147 | 1044 | 2103 | 309,7% | 427 | 0,79 | 28,60 |
| 148 | 1064 | 2120 | 309,8% | 427 | 0,79 | 28,65 |
| 149 | 1085 | 2137 | 309,9% | 428 | 0,79 | 28,70 |
| 150 | 1106 | 2153 | 310,0% | 429 | 0,79 | 28,75 |
| 151 | 1126 | 2170 | | 430 | 0,80 | 28,80 |
| 152 | 1148 | 2187 | | 431 | 0,80 | 28,85 |
| 153 | 1169 | 2204 | | 432 | 0,80 | 28,90 |
| 154 | 1191 | 2221 | | 433 | 0,81 | 28,94 |
| 155 | 1213 | 2238 | | 433 | 0,81 | 28,99 |
| 156 | 1236 | 2256 | | 434 | 0,81 | 29,03 |
| 157 | 1258 | 2273 | | 435 | 0,81 | 29,08 |
| 158 | 1281 | 2290 | | 436 | 0,81 | 29,12 |
| 159 | 1304 | 2307 | | 437 | 0,82 | 29,16 |
| 160 | 1328 | 2325 | | 437 | 0,82 | 29,20 |
| 161 | 1352 | 2342 | | 438 | 0,82 | 29,24 |
| 162 | 1376 | 2360 | | 439 | 0,83 | 29,28 |
| 163 | 1400 | 2377 | | 439 | 0,83 | 29,32 |
| 164 | 1425 | 2395 | | 440 | 0,83 | 29,35 |
| 165 | 1450 | 2413 | | 441 | 0,83 | 29,39 |
| 166 | 1475 | 2431 | | 441 | 0,83 | 29,42 |
| 167 | 1501 | 2448 | | 442 | 0,84 | 29,46 |
| 168 | 1527 | 2466 | | 442 | 0,84 | 29,49 |
| 169 | 1553 | 2484 | | 443 | 0,85 | 29,52 |
| 170 | 1580 | 2502 | | 444 | 0,85 | 29,55 |
| 171 | 1606 | 2521 | | 444 | 0,85 | 29,58 |
| 172 | 1634 | 2539 | | 445 | 0,85 | 29,61 |
| 173 | 1661 | 2557 | | 445 | 0,85 | 29,64 |
| 174 | 1689 | 2575 | | 446 | 0,86 | 29,66 |
| 175 | 1717 | 2594 | | 446 | 0,86 | 29,69 |
| 176 | 1745 | 2612 | | 447 | 0,86 | 29,71 |
| 177 | 1774 | 2630 | | 447 | 0,87 | 29,74 |
| 178 | 1803 | 2649 | | 447 | 0,87 | 29,76 |
| 179 | 1832 | 2668 | | 448 | 0,88 | 29,78 |
| 180 | 1862 | 2686 | | 448 | 0,88 | 29,80 |
| 181 | 1892 | 2705 | | 448 | 0,88 | 29,82 |
| 182 | 1922 | 2724 | | 449 | 0,88 | 29,84 |
| 183 | 1953 | 2742 | | 449 | 0,88 | 29,86 |
| 184 | 1984 | 2761 | | 449 | 0,89 | 29,87 |
| 185 | 2015 | 2780 | | 450 | 0,89 | 29,89 |
| 186 | 2047 | 2799 | | 450 | 0,90 | 29,90 |
| 187 | 2079 | 2818 | | 450 | 0,90 | 29,92 |
| 188 | 2111 | 2838 | | 451 | 0,90 | 29,93 |
| 189 | 2144 | 2857 | | 451 | 0,91 | 29,94 |
| 190 | 2177 | 2876 | | 451 | 0,91 | 29,95 |
| 191 | 2211 | 2895 | | 451 | 0,92 | 29,96 |
| 192 | 2244 | 2915 | | 451 | 0,92 | 29,97 |
| 193 | 2278 | 2934 | | 451 | 0,93 | 29,98 |
| 194 | 2313 | 2954 | | 452 | 0,93 | 29,98 |
| 195 | 2348 | 2973 | | 452 | 0,93 | 29,99 |
| 196 | 2383 | 2993 | | 452 | 0,93 | 29,99 |
| 197 | 2418 | 3013 | | 452 | 0,93 | 30,00 |
| 198 | 2454 | 3032 | | 452 | 0,94 | 30,00 |
| 199 | 2490 | 3052 | | 452 | 0,94 | 30,00 |
| 200 | 2527 | 3072 | 310% | 452 | 0,95 | 30,00 |