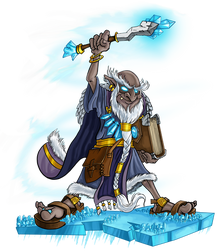 Alviss is one of the heroes. Master of the Ice Magic. He freezes opponent`s tower from a long range and rides the cool Ice Board. Currently he can be unlocked by gems in the Asgard Gate.
His special attack is Tower Freeze. He freezes the opponent`s tower for some time with the ice from the depths of the Jotunheim and get also a small damage to the buildings.

Here is a Video by Corbell from April, 2015 - Alviss Video Wiki.
Constants
Edit
| Walking Speed | Shooting Range |
| --- | --- |
| 100 | 5 |
Level Up Potential
Edit
| Level            | Health | Armor | Damage | Attack Speed | Critical |
| --- | --- | --- | --- | --- | --- |
| 1 Initial | 253 | 101.3% | 82 | | 20.1% |
| 200 Max. | 4140 | 133% | 299 | 4.55 | 55.5% |
Statistics
Edit
| Level   | Experience   | Health   | Armor   | Damage   | Attack Speed   | Critical  |
| --- | --- | --- | --- | --- | --- | --- |
| 1        | 54 | 253 | 101.3% | 82 | | 20.1% |
| 2        | 56 | 266 | 101.6% | 85 | | 20.1% |
| 3        | 57 | 279 | 101.9% | 87 | | 20.1% |
| 4        | 59 | 293 | 102.2% | 89 | | 20.2% |
| 5        | 60 | 306 | 102.5% | 91 | | 20.2% |
| 6        | 61 | 319 | 102.8% | 93 | | 20.3% |
| 7        | 63 | 333 | 103.1% | 95 | | 20.3% |
| 8        | 64 | 346 | 103.4% | 97 | | 20.4% |
| 9        | 66 | 360 | 103.7% | 99 | | 20.4% |
| 10        | 67 | 373 | 103.9% | 102 | | 20.5% |
| 11        | 68 | 387 | 104.2% | 104 | | 20.5% |
| 12        | 70 | 401 | 104.5% | 106 | | 20.6% |
| 13        | 71 | 415 | 104.8% | 108 | | 20.6% |
| 14        | 72 | 428 | 105.1% | 110 | | 20.7% |
| 15        | 74 | 442 | 105.4% | 112 | | 20.7% |
| 16        | 75 | 456 | 105.6% | 114 | | 20.8% |
| 17        | 76 | 470 | 105.9% | 116 | | 20.8% |
| 18        | 78 | 485 | 106.2% | 118 | | 20.8% |
| 19        | 79 | 499 | 106.5% | 120 | | 20.9% |
| 20        | 81 | 513 | 106.7% | 122 | | 20.9% |
| 21        | 82 | 527 | 107.9% | 124 | | 21.0% |
| 22        | 83 | 542 | 107.3% | 126 | | 21.0% |
| 23        | 85 | 556 | 107.5% | 128 | | 21.1% |
| 24        | 86 | 571 | 107.8% | 130 | | 21.1% |
| 25        | 87 | 585 | 108.1% | 132 | | 21.2% |
| 26        | 89 | 600 | 108.3% | 134 | | 21.2% |
| 27        | 90 | 615 | 108.6% | 135 | | 21.3% |
| 28        | 92 | 630 | 108.9% | 137 | | 21.3% |
| 29        | 93 | 644 | 109.1% | 139 | | 21.3% |
| 30        | 95 | 659 | 109.4% | 141 | | 21.4% |
| 31        | 96 | 674 | 109.6% | 143 | | 21.4% |
| 32       | 98 | 689 | 109.9% | 145 | | 21.5% |
| 33       | 99 | 704 | 110.1% | 147 | | 21.5% |
| 34       | 101 | 720 | 110.4% | 148 | | 21.6% |
| 35       | 102 | 735 | 110.7% | 150 | | 21.6% |
| 36       | 104 | 750 | 110.9% | 152 | | 21.6% |
| 37       | 106 | 766 | 111.2% | 154 | | 21.7% |
| 38       | 107 | 781 | 111.4% | 156 | | 21.7% |
| 39      | 109 | 796 | 111.6% | 157 | | 21.8% |
| 40      | 111 | 812 | 111.9% | 159 | | 21.8% |
| 41      | 112 | 828 | 112.1% | 161 | | 21.9% |
| 42      | 114 | 848 | 112.4% | 163 | | 21.9% |
| 43      | 116 | 859 | 112.6% | 164 | | 21.9% |
| 44      | 118 | 875 | 112.9% | 166 | | 22.0% |
| 45      | 120 | 891 | 113.1% | 168 | | 22.0% |
| 46      | 121 | 907 | 113.3% | 170 | | 22.1% |
| 47      | 123 | 923 | 113.6% | 171 | | 22.1% |
| 48      | 125 | 939 | 113.8% | 173 | | 22.1% |
| 49      | 127 | 955 | 114.0% | 175 | | 22.2% |
| 50      | 129 | 971 | 114.3% | 176 | | 22.2% |
| 51      | 132 | 988 | 114.5% | 178 | | 22.3% |
| 52      | 134 | 1004 | 114.7% | 179 | | 22.3% |
| 53      | 136 | 1020 | 114.9% | 181 | | 22.3% |
| 54     | 138 | 1037 | 115.2% | 183 | | 22.4% |
| 55     | 140 | 1053 | 115.4% | 184 | | 22.4% |
| 56     | 143 | 1070 | 115.6% | 186 | | 22.5% |
| 57     | 145 | 1087 | 115.8% | 187 | | 22.5% |
| 58     | 147 | 1103 | 116.1% | 189 | | 22.5% |
| 59     | 150 | 1120 | 116.3% | 191 | | 22.6% |
| 60     | 152 | 1137 | 116.5% | 192 | | 22.6% |
| 61     | 155 | 1154 | 116.7% | 194 | | 22.6% |
| 62     | 158 | 1171 | 116.9% | 195 | | 22.7% |
| 63     | 160 | 1188 | 117.1% | 197 | | 22.7% |
| 64     | 163 | 1205 | 117.3% | 198 | | 22.8% |
| 65     | 166 | 1222 | 117.6% | 200 | | 22.8% |
| 66     | 169 | 1240 | 117.8% | 201 | | 22.8% |
| 67     | 172 | 1257 | 118.0% | 203 | | 22.9% |
| 68     | 174 | 1274 | 118.2% | 204 | | 22.9% |
| 69     | 177 | 1292 | 118.4% | 205 | | 22.9% |
| 70     | 181 | 1309 | 118.6% | 207 | | 23.0% |
| 71     | 184 | 1327 | 118.8% | 208 | | 23.0% |
| 72     | 187 | 1344 | 119.0% | 210 | | 23.0% |
| 73     | 190 | 1362 | 119.2% | 211 | | 23.1% |
| 74     | 194 | 1380 | 119.4% | 213 | | 23.1% |
| 75     | 197 | 1398 | 119.6% | 214 | | 23.1% |
| 76     | 200 | 1416 | 119.8% | 215 | | 23.2% |
| 77     | 204 | 1434 | 120.0% | 217 | | 23.2% |
| 78     | 208 | 1452 | 120.2% | 218 | | 23.2% |
| 79     | 211 | 1470 | 120.3% | 219 | | 23.3% |
| 80     | 215 | 1488 | 120.5% | 221 | | 23.3% |
| 81     | 219 | 1506 | 120.7% | 222 | | 23.3% |
| 82     | 223 | 1524 | 120.9% | 223 | | 23.4% |
| 83     | 227 | 1543 | 121.1% | 225 | | 23.4% |
| 84     | 231 | 1561 | 121.3% | 226 | | 23.4% |
| 85     | 235 | 1580 | 121.5% | 227 | | 23.5% |
| 86     | 239 | 1598 | 121.6% | 228 | | 23.5% |
| 87     | 244 | 1617 | 121.8% | 230 | | 23.5% |
| 88     | 248 | 1636 | 122.0% | 231 | | 23.6% |
| 89     | 253 | 1654 | 122.2% | 232 | | 23.6% |
| 90     | 257 | 1673 | 122.3% | 233 | 0.68 | 23.6% |
| 91     | 262 | 1692 | 122.5% | 234 | | 23.7% |
| 92     | 267 | 1711 | 122.7% | 236 | | 23.7% |
| 93     | 272 | 1730 | 122.9% | 237 | | 23.7% |
| 94     | 276 | 1749 | 123.0% | 238 | | 23.7% |
| 95     | 281 | 1768 | 123.2% | 239 | | 23.8% |
| 96     | 287 | 1787 | 123.4% | 240 | | 23.8% |
| 97     | 292 | 1807 | 123.5% | 241 | | 23.8% |
| 98     | 297 | 1826 | 123.7% | 243 | | 23.9% |
| 99     | 302 | 1845 | 123.8% | 244 | | 23.9% |
| 100     | 308 | 1865 | 124.0% | 245 | | 23.9% |
| 101     | 314 | 1884 | 124.2% | 246 | | 23.9% |
| 102     | 319 | 1904 | 124.3% | 247 | | 24.0% |
| 103     | 325 | 1924 | 124.5% | 248 | | 24.0% |
| 104     | 331 | 1943 | 124.6% | 249 | | 24.0% |
| 105     | 337 | 1963 | 124.8% | 250 | | 24.1% |
| 106     | 343 | 1983 | 124.9% | 251 | | 24.1% |
| 107     | 349 | 2003 | 125.1% | 252 | | 24.1% |
| 108     | 356 | 2023 | 125.2% | 253 | | 24.1% |
| 109     | 362 | 2043 | 125.4% | 254 | | 24.2% |
| 110     | 368 | 2063 | 125.5% | 255 | 0.77 | 24.2% |
| 111     | 375 | 2083 | 125.7% | 256 | 0.78 | 24.2% |
| 112   | 382 | 2104 | 125.8% | 257 | 0.78 | 24.2% |
| 113   | 389 | 2124 | 126.0% | 258 | 0.78 | 24.3% |
| 114   | 396 | 2144 | 126.1% | 259 | 0.79 | 24.3% |
| 115   | 403 | 2165 | 126.3% | 260 | 0.80 | 24.3% |
| 116   | 410 | 2185 | 126.4% | 261 | | 24.3% |
| 117   | 417 | 2206 | 126.5% | 262 | | 24.4% |
| 118   | 425 | 2226 | 126.7% | 263 | | 24.4% |
| 119   | 432 | 2247 | 126.8% | 264 | | 24.4% |
| 120   | 440 | 2268 | 126.9% | 264 | | 24.4% |
| 121   | 448 | 2289 | 127.1% | 265 | | 24.5% |
| 122   | 455 | 2310 | 127.2% | 266 | | 24.5% |
| 123   | 463 | 2331 | 127.3% | 267 | | 24.5% |
| 124   | 472 | 2352 | 127.4% | 268 | | 24.5% |
| 125   | 480 | 2373 | 127.6% | 269 | | 24.6% |
| 126   | 488 | 2394 | 127.7% | 270 | | 24.6% |
| 127   | 497 | 2415 | 127.8% | 270 | | 24.6% |
| 128   | 505 | 2436 | 127.9% | 271 | | 24.6% |
| 129   | 514 | 2458 | 128.1% | 272 | | 24.6% |
| 130   | 523 | 2479 | 128.2% | 273 | | 24.7% |
| 131   | 532 | 2501 | 128.3% | 273 | | 24.7% |
| 132   | 541 | 2522 | 128.4% | 274 | | 24.7% |
| 133   | 550 | 2544 | 128.5% | 275 | | 24.7% |
| 134   | 560 | 2565 | 128.6% | 276 | | 24.7% |
| 135   | 569 | 2587 | 128.7% | 276 | | 24.8% |
| 136   | 579 | 2609 | 128.9% | 277 | | 24.8% |
| 137   | 589 | 2631 | 129.0% | 278 | | 24.8% |
| 138   | 599 | 2653 | 129.1% | 278 | | 24.8% |
| 139   | 609 | 2675 | 129.2% | 279 | | 24.8% |
| 140   | 619 | 2697 | 129.3% | 280 | | 24.9% |
| 141   | 630 | 2719 | 129.4% | 280 | | 24.9% |
| 142   | 640 | 2741 | 129.5% | 281 | | 24.9% |
| 143   | 651 | 2763 | 129.6% | 282 | | 24.9% |
| 144   | 662 | 2786 | 129.7% | 282 | | 24.9% |
| 145   | 673 | 2808 | 129.8% | 283 | | 24.9% |
| 146   | 684 | 2831 | 129.9% | 284 | | 25.0% |
| 147   | 695 | 2853 | 130.0% | 284 | | 25.0% |
| 148   | 706 | 2876 | 130.1% | 285 | | 25.0% |
| 149   | 718 | 2898 | 130.2% | 285 | | 25.0% |
| 150   | 730 | 2921 | 130.3% | 286 | | 25.0% |
| 151   | 741 | 2944 | 130.3% | 286 | | 25.0% |
| 152   | 753 | 2967 | 130.4% | 287 | | 25.1% |
| 153   | 766 | 2990 | 130.5% | 287 | | 25.1% |
| 154   | 778 | 3013 | 130.6% | 288 | | 25.1% |
| 155   | 790 | 3036   | 130.7%   | 288   | 1.2   | 25.1% |
| 156   | 803 | 3059 | 130.8% | 289 | | 25.1% |
| 157   | 816 | 3082 | 130.9% | 289 | | 25.1% |
| 158   | 829 | 3105 | 130.9% | 290 | | 25.1% |
| 159   | 842 | 3129 | 131.0% | 290 | | 25.2% |
| 160   | 855 | 3152 | 131.1% | 291 | | 25.2% |
| 161   | 868 | 3175 | 131.2% | 291 | | 25.2% |
| 162   | 882 | 3199 | 131.2% | 292 | | 25.2% |
| 163   | 896 | 3222 | 131.3% | 292 | | 25.2% |
| 164   | 910 | 3246 | 131.4% | 292 | | 25.2% |
| 165 | 924 | 3270 | 131.4% | 293 | | 25.2% |
| 166 | 938 | 3293 | 131.5% | 293 | | 25.2% |
| 167 | 952 | 3317 | 131.6% | 294 | | 25.3% |
| 168 | 967 | 3341 | 131.6% | 294 | | 25.3% |
| 169 | 982 | 3365 | 131.7% | 294 | | 25.3% |
| 170 | 997 | 3389 | 131.8% | 295 | | 25.3% |
| 171 | 1012 | 3413 | 131.8% | 295 | | 25.3% |
| 172 | 1027 | 3437 | 131.9% | 295 | | 25.3% |
| 173 | 1042 | 3462 | 132.0% | 295 | | 25.3% |
| 174 | 1058 | 3486 | 132.0% | 296 | | 25.3% |
| 175 | 1074 | 3510 | 132.1% | 296 | | 25.3% |
| 176 | 1090 | 3535 | 132.1% | 296 | | 25.4% |
| 177 | 1106 | 3559 | 132.2% | 297 | | 25.4% |
| 178 | 1122 | 3584 | 132.2% | 297 | | 25.4% |
| 179 | 1139 | 3608 | 132.3% | 297 | | 25.4% |
| 180 | 1155 | 3633 | 132.3% | 297 | | 25.4% |
| 181 | 1172 | 3658 | 132.4% | 297 | | 25.4% |
| 182 | 1189 | 3682 | 132.4% | 298 | | 25.4% |
| 183 | 1207 | 3707 | 132.5% | 298 | | 25.4% |
| 184 | 1224 | 3732 | 132.5% | 298 | | 25.4% |
| 185 | 1242 | 3757 | 132.5% | 298 | | 25.4% |
| 186 | 1260 | 3782 | 132.6% | 298 | | 25.4% |
| 187 | 1278 | 3807 | 132.6% | 299 | | 25.4% |
| 188 | 1296 | 3833 | 132.7% | 299 | | 25.4% |
| 189 | 1314 | 3858 | 132.7% | 299 | | 25.5% |
| 190 | 1333 | 3883 | 132.7% | 299 | | 25.5% |
| 191 | 1351 | 3908 | 132.8% | 299 | | 25.5% |
| 192 | 1370 | 3934 | 132.8% | 299 | | 25.5% |
| 193 | 1389 | 3959 | 132.8% | 299 | | 25.5% |
| 194 | 1409 | 3985 | 132.9% | 299 | | 25.5% |
| 195 | 1428 | 4011 | 132.9% | 299 | | 25.5% |
| 196 | 1448 | 4036 | 132.9% | 299 | | 25.5% |
| 197 | 1468 | 4062 | 132.9% | 299 | | 25.5% |
| 198 | 1488 | 4088 | 132.9% | 299 | | 25.5% |
| 199 | 1509 | 4114 | 133.0% | 299 | | 25.5% |
| 200 | 1529 | 4140 | 133.0% | 299 | 4.55 | 25.5% |